General Questions:
Paul Jury
Director
(310) 529-7285
Tutoring Questions:
Linda Townley
Tutor Coordinator
(612) 315-6015
linda@pjtestprep.com
What's new?
Download the current schedule.
Here you're find info about and
LINKS
to the SAT and ACT websites, as well as some other college prep resources!
Upcoming ACT Test Dates
www.actstudent.org/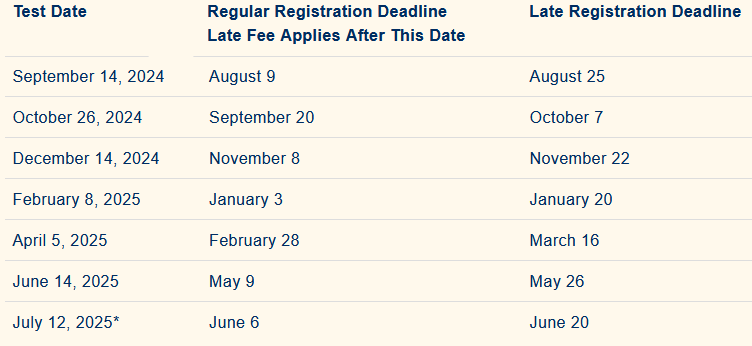 Upcoming SAT Test Dates
http://www.collegeboard.com/

Counselling Resources
PJ Test Prep and our clients have had the honor of getting to know a few other experts in the college prep world, and recommend the following for your Admissions Advising, College Financing, and Mentoring needs!
Arlette Bolduc at Grays Hall Counseling provides college planning services from career assessments and recommending high school curriculum and activities to selecting "right fit" colleges for the student's list (right fit academically, socially and financially).
www.grayshallcounseling.com/



Jacqueline Pravda at NorthStar Advisors meets students where they are to provide personalized Ivy-educated consulting through the application and college placement process.
www.nscollegeadvisors.com/



Nick Soper of Creative College Prep is a Northwestern grad (like our founder!) who provides college prep for the "creative & arts-minded"... and students who "do-lots-of-things-but-don't-know-what-they-want-in-life". Having gone through UCLA Extension's College Counselling program, Nick specializes in helping wandering creative minds find their college paths.
www.creativecollegeprep.com



Jess Hopkins is a collegue, friend and Teen Life-Coach for students trying to figure out their paths. As a certified Teen Wisdom Inc. life coach, Jess mentors teen girls in Los Angeles in navigating the trials, tribulations and transitions of adolescence.
www.mycoachjess.com



Kim Girard is a "tuition insurance plan" - she coaches students at many levels as a College Transition Coach, especially those beginning and finding their paths in college. A certified life coach, she helps parents and students alike feel at ease navigating the sometimes tricky untethered world of college, as students find themselves making that big leap out of the nest.
www.kimgirard.com



Trevor Ramos is a popular college and financial advisor who guides students on finding their ideal college, creates strategies for families to get maximum grants and scholarships, and drafts sound financial plan so parents can send multiple kids through college without using retirement money.
www.collegefundingremedies.com



Catherine Graham is a College Financial Aid Expert, Consultant and Founder of The Financial Aid Shop. As a financial aid professional who has worked in and directed college Financial Aid Offices at several well-known colleges, Catherine knows who, when, and why a student would receive financial aid, and helps families strategically navigate the "paying for college" process.
www.thefinancialaidshop.com



Scholarship Resources
Some bonus links to a few scholarship opportunities:
Student Financial Aid Search Engine: Find & Apply for Financial Aid to Pay for College
"No Essay" College Scholarship
UNCF Scholarships
$10k Unigo Short Essay scholarship
SAT/ACT PRACTICE LINKS
Below are links for additional SAT and ACT Practice. NOTE: The 8 released SAT tests may have some overlap with Practice Tests we take in our courses.
All released SAT Practice Tests & Answers!
Most current official ACT Practice Test, all officially released ACT Tests, and practice in English, Math, Reading, and Science.
Additional ACT Practice, and Kahn Academy SAT Practice.