General Questions:
Paul Jury
Director
(310) 529-7285
Tutoring Questions:
Linda Townley
Tutor Coordinator
(612) 315-6015
linda@pjtestprep.com
What's new?
Download our current Class Schedule here!
(Class schedules subject to change - the online version is always the most recent.)
All PJ Test Prep Classes, Tutoring and Events offer
Zoom options
for safe, convenient at-home preparation. But we also have many
in-person opportunities
!
You have questions. We have answers.

We bet if you read below, you'll find the information you're looking for...
Trust us. We've been doing this a long time.


FREQUENTLY ASKED QUESTIONS - GENERAL
Websites confuse and frighten me. Can I talk to an actual person?
Sure! Just give us a call or send an email via the contact info at the top of the page, or on the left sidebar.
Let's jump right to the hardest question: Why should we use PJ Test Prep as opposed to the competition?
Four reasons: Quality, Affordability, Flexibility, and Intimacy.
As a small, boutique tutoring company, we're able to offer the highest-quality test prep at a much lower price. Our founder was an award-winning teacher at one of the giant test prep companies. Without the size and bureaucracy of the larger companies, we're able to really get to know our tutors and families, which helps us find the best fit for each student.
How is PJ Test Prep able to offer high-level prep at such a lower price than the big companies?
One word: Overhead. We don't have big management centers or national advertising. We just have really good teachers and tutors who are committed to the idea that test prep and academic help doesn't have to be only for the super-rich. If you
are
super-rich, that's fine too; we'll still give you the best prep money can buy, and maybe you can use that extra money to sponsor another kid into class!
TUTORING
Where does tutoring happen? Do you have a center?
To keep our prices low, PJ Test Prep does not have a centralized office, so tutoring is usually in-home (or on Zoom, when preferred)... unless your house is being fumigated or serving as a daycare, in which case a library or coffee shop is fine.
Do you do paired or small group tutoring?
Yup! It's a great way to reduce costs while still getting the benefit of the individual attention tutoring offers. If a student has a friend or several friends who want to tutor together, the cost per student decreases with each additional student. Contact Linda for more information. One note: it's usually best if the students are somewhat similar in ability levels.
Who are your tutors (and teachers?)
All our tutors (and teachers) are graduates from top colleges like Northwestern, UCLA, Harvard, Johns Hopkins, etc. Some are currently graduate students or in gap years while applying to graduate programs or medical school; others are teachers, writers, or other professionals who tutor on the side. Most importantly, all are professionals who possess the two things necessary to be a great instructor: expertise in their subject matter, and great skill at conveying this expertise to students.
TEST PREP
Should my student take the SAT or the ACT? And how many times?
This is such a big question, we give entire
presentations
on it. But the short answer? Take both, since nearly every college accepts whichever test you score higher on. Some students find that one test suits them better (for instance, the SAT is trickier and has more math, whereas the ACT has a faster pace) but if you were in the Olympic Long Jump competition, and the judges gave you a choice between getting one attempt to get your longest distance, or two attempts, why would you not jump twice?
As far as how many attempts you should make: while you theoretically could take the SAT/ACT many times, some schools don't like you to take a given test more than twice. And if you've done a good job prepping, you shouldn't have to.
For the SAT/ACT, I'm trying to decide between a class, or tutoring. What's the difference, and which do you recommend?
Both tutoring and classes use the same material to teach students the content and tricks/strategies they'll need on the SAT/ACT. The difference is mainly one of cost, flexibility, and intensity.
Private tutoring, taking place in-home, is very flexible, and there's no more focused way to really blast off a student's score. But classes are cheaper and usually produce wonderful results as well, so we often recommend you start there; you can always augment with tutoring later, to work on any weak points.
The three situations in which we might recommend tutoring right off the bat are:
LOGISTICS:
The student's schedule or location makes it hard to attend most sessions of one of our
classes
.
PERFORMANCE:
If your student is scoring particularly high (1250+ SAT/28+ ACT) or low (800- SAT/15- ACT), tutoring might be a better fit, as a class might move a bit slow or fast for them.
DRAMATIC RESULTS
: Though our classes yield great results, the very largest improvements most often occur with private tutoring programs, in which students sometimes leap up 300+ SAT points. Though this happens in class sometimes, too.
CLASSES
I want to take one of your classes, but I there's a date or two I can't attend. Can I make up classes or Practice Tests somehow?
Yes, there are a couple of options to make up both classes and practice tests:
A) You can make up a missed event by coming to that class with a different course. For instance, if you are in Hermosa Beach May Full SAT class and miss Class 4, you could make it up with Class 4 of the
Culver City
May class, or with Class 4 of the Hermosa Beach June SAT class or March (if you plan ahead!) SAT Class. There is no charge for this option.
B) You can make up a missed class with a private tutoring session ($120 for the first; $100 for subsequent), which can be scheduled by
emailing Linda
.
C) You can also make up a missed class with an online video make-up ($30, or sometimes free as the pandemic still sort of lingers with us!), which can be scheduled by
emailing Paul
.
D)
Practice Tests
can also be made up on the student's own, by getting the test materials from the instructor of the class or the proctor of the practice test.
How many students are in a class?
Classes usually have 10-15 students, but we allow enrollment to reach 20 or so during busier test seasons. Much past that, though, we usually open a new class, so we can keep numbers low and personal attention high.
Where can I find your class schedule? And when do you post new ones for later classes?
You can download our current class schedule on the SAT-ACT Classes Page, at the top of the main page, or
here
. We post new class schedules twice a year: typically in early October for the January-June spring season, and in May for the July-December fall season.
Where are classes held?
We offer both classroom courses in great Los Angeles, as well as online courses. Do see the locations of our currently-offered classes, see the
schedule
.
Do classes fill up? How do I know if a class is full?
Yes, due to the popularity of our programs, classes often do fill up. But if you can find and sign up for a class on our website, it means it's still open; we close and remove any class that is full.
Can you offer payment plans?
Yes, we can, though we usually ask for a partial deposit to reserve the student's place in class. Contact
Paul
about this.
Do you have a guaranteed score increase?
Our policy is "once a student, always a student": if a student takes our course, he or she is welcome to re-attend any future sessions of that same class, FREE OF CHARGE. In this way, whether a student was not satisfied with his or her score increase, or simply wants to improve even more, he or she always has a home in PJ Test Prep classes. As such, we do not need to have an official score guarantee, though we've never had a kid come to all the classes, put in the appropriate effort, and not have their score improve.
What's the average score improvement for your classes?
Most students who take our full (7 week) class show an improvement from their first practice test to their third practice test of 100-200 SAT points, or 2-4 ACT points, though there are always a few kids in each class who go up much more than this. Students who undergo a full tutoring program generally see slightly higher increases.
FREQUENTLY ASKED QUESTIONS - PSAT SPECIAL!
I just got my PSAT scores back. What do they mean?
SAT scores range from 400 (not so good) up through 1000 (average) to 1600 (perfect). PSAT scores are similar, though they only go up to 1520, for various weird reasons. You also need to remember that the PSAT curve is a bit easier than the SAT's, so a 1150 PSAT score might only translate to perhaps a 1050 SAT score (assuming no additional prep or improvement).
Since most schools are still TEST OPTIONAL, can I use my PSAT scores to advise me about whether (and when) I should take the SAT (or ACT) for REAL for those schools?
Yes - in fact that's one of the PSAT's best functions right now - check out the
graph
below! In general, we recommend that most students at least TRY the SAT or ACT (or both), even if their score is not the highest, because:
Your PSAT score is unlikely to be your FINAL score. Once students know how to take the test better (like through a prep class:), they often score 200+ SAT points or 3-4+ ACT points higher, sometimes much more.
You probably don't know all the schools/scholarships you're applying to just yet – you may find yourself applying someplace that DOES require the SAT/ACT.
Most Test Optional colleges accept a higher % of students who submit scores vs. those who do not, though admittedly this is more true of students with higher scores. Also, you can always take the test and then simply not submit the score to any school where it doesn't help you.
This graph generally sums up our recommendations...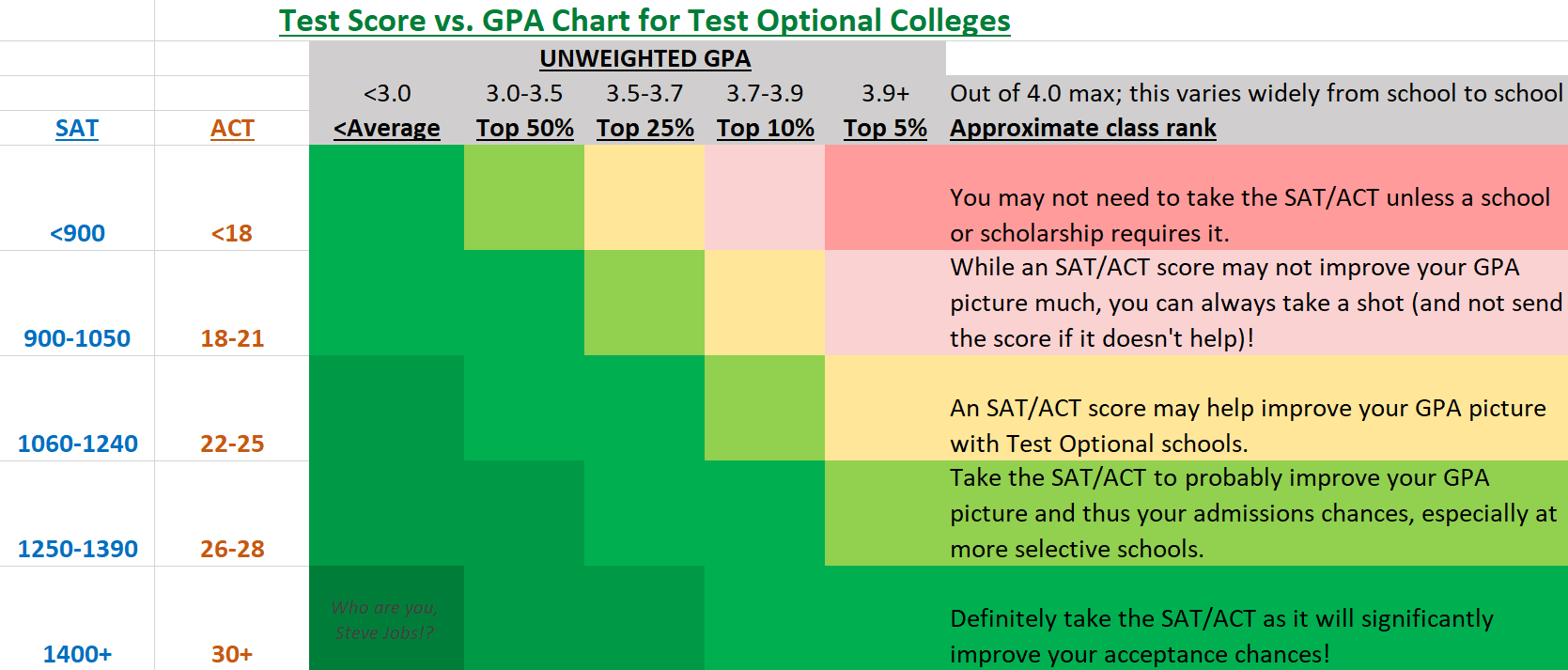 So there are some reasons why some students may choose NOT to take the SAT/ACT. For example if you're ONLY applying to UC and Cal State schools (see below), or you're the valedictorian of your class and don't think you'll EVER score higher than a 21 ACT or 1000 SAT. But in this age of GPA inflation, pandemic grades, and byzantine admissions requirements, it really helps to have SOMETHING that makes you stand out. It could be an amazing club you started, a stellar essay or a good SAT or ACT score. A 3.7 with a 1200 SAT score looks better than just a 3.7. In fact a lot of these schools are lobbing money at students like this (more on this below, as well). But we're happy to speak to you personally about your particular situation!
So I AM mostly applying only to UC schools and Cal States, which aren't looking at scores right now. Do I need to take the SAT/ACT?
If you're ONLY applying to UCs and Cal States, then you wouldn't need SAT/ACT Scores (though there could be some related scholarship or specific programs that could still use them). But these are ~30 of the ~1400 colleges in the country, and nearly all the others are at least Test Optional. And the UC Test Blind Policy has made even UCs that used to be easier to get into like Davis and San Diego now
rarely accepting of students with lower than 4.1 GPAs
. So while the UCs and Cal States are great, we generally recommend also adding some Private and/or Out of State schools to your list.
But aren't these (Private and Out of State) schools more expensive?
Not necessarily. First, reciprocity or
other
arrangements make some schools not much more expensive than UCs in the first place. But also, remember that you don't know how much a school costs until you get your final financial aid package, and these packages are more generous than ever. In fact, while college sticker prices have obviously continued skyward in the past years and decades, the
prices family are actually PAYING on average has not actually increased much
. A $60,000 private school that gives $15,000 in need-based aid plus a $30,000 year scholarship for having a 3.8 GPA and a 1250 SAT score is the same price as a $15,000 UC.
What should I do with my PSAT score if I'm a Sophomore or younger?
Mostly, don't stress! You don't have to take the SAT/ACT until Junior year, (the PSAT doesn't count toward National Merit status until you're a Junior), and there will be a new SAT format by then. However you CAN use the scores to look at the strengths and weaknesses in your RAW SKILLS before then. Got a low Math score? Brush up on those core Algebra skills. Got a low Verbal score? Read a book (for fun).