General Questions:
Paul Jury
Director
(310) 529-7285
Tutoring Questions:
Linda Townley
Tutor Coordinator
(612) 315-6015
linda@pjtestprep.com
What's new?
NEW 2020 DATES are below!

Full/Closed events, like the Dec 8th Test/Seminar, are taken off the website - please register for another event.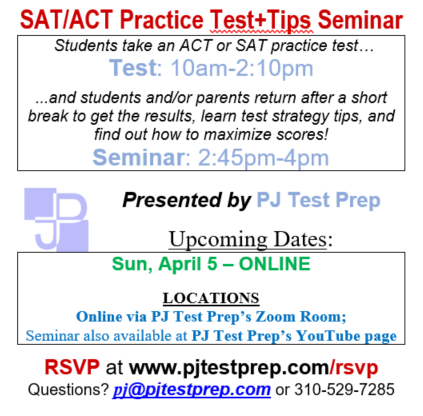 RESERVE YOUR SPOT HERE
Step 2: Make a payment (only necessary for certain dates).
| | |
| --- | --- |
| | SAT or ACT Mock Test - $5 |
To any free/$5 test, students should bring pencils and a calculator (preferrably graphing) - phones cannot be used as calculators. Please arrive at least 10 minutes early.
Tests last around 4 hours, though it depends on the test... ACTs with NO Essay last 3 hours 10 minutes, whereas ACTs WITH Essay last 3 hours 55 minutes. SATs with NO Essay last 3 hours 15 minutes, whereas SATs WITH Essay last 4 hours 10 minutes.
There will be a 5-minute break during the test - long enough for a quick snack, but not long enough for a meal, so come rested and fed.